Carrick Film Society and Carrick Cineplex are delighted to present a new season of Art-house, World & Classic Film, Autumn/Winter 2017
Join us every Thursday for screenings starting at 8.30pm from 28th September
No membership required  – all are welcome to attend.
Why not arrive early and enjoy a glass of wine, gourmet coffee or Maud's Ice Cream in the comfortable surrounds of Cafe Paradiso before showtime.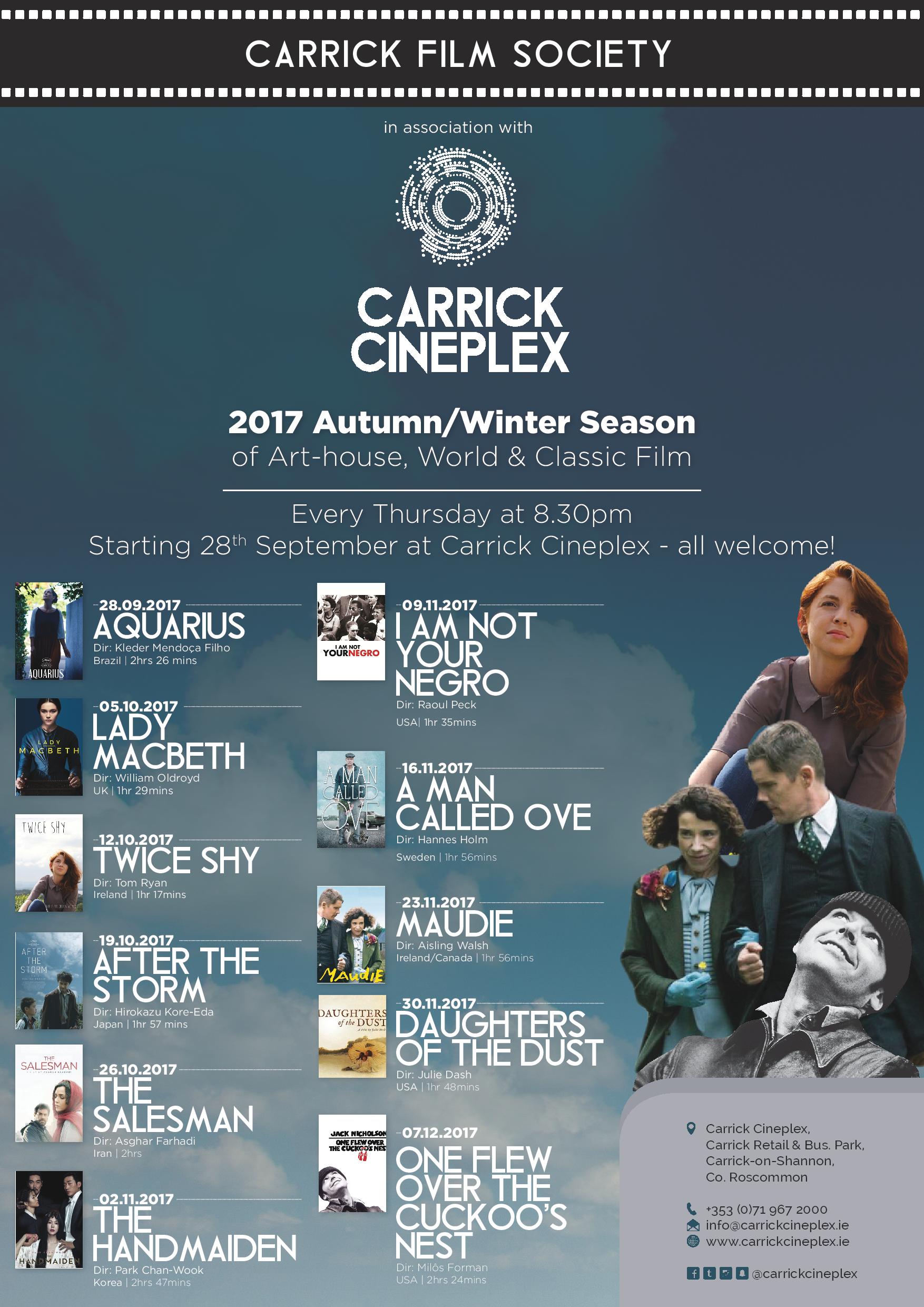 **SCHEDULE**
28th September: Aquarius
Dir: Kleder Mendoça Filho / Brazil / 2hrs 26 mins
A portrait of a 65 yr old woman refusing to be bullied out of her seafront apartment by developers, "Aquarius" is both a powerful celebration of its independent heroine and a scathing satire on institutional corruption.
5th October: Lady Macbeth
Dir: William Oldroyd / UK / 1hr 29mins
An adaption of Leskov's 1865 novella, "Lady Macbeth" concerns the story of Catherine, stifled by a loveless marriage to a bitter man twice her age whose family are cold and unforgiving. When she embarks on a passionate affair with a young worker on her husband's estate, a force is unleashed in her so powerful that she will stop at nothing to get what she wants.
12th October: Twice Shy
Dir: Tom Ryan / Ireland / 1hr 17mins
"Twice Shy" tells the story of Maggie and Andy, a young Irish couple en route to London as a result of an unplanned pregnancy. Told via the framing narrative of the car journey to the airport, the film dips back in time to the couple's life together, from their first kiss, to college, to their breakup and Maggie's crisis.
19th October: After the Storm
Dir: Hirokazu Kore-Eda / Japan / 1hr 57 mins
Failed writer turned private detective Ryota rifles through his late father's possessions hoping to find something to sell. It soon becomes clear that his only inheritance is a ruinous gambling habit that threatens his relationship with his own son.
26th October: The Salesman
Dir: Asghar Farhadi / Iran / 2hrs
This film tells the story of a sexual assault that exposes the emotion seething beneath the surface of Iranian bourgeoisie. This domestic drama from the director of A Separation lays the symbolism on with a trowel- but it works. "The Salesman" is a well-crafted, valuable drama.
2nd November: The Handmaiden
Dir: Park Chan-Wook / Korea / 2hrs 47mins
Transposed to 1930s era Korea and Japan "The Handmaiden" presents a gripping and sensual story of a young Japanese lady living in a secluded estate and a Korean woman who is hired to serve as her new handmaiden, but who is secretly involved in a con-man's  plot  defraud her of her large inheritance.
9th November: I Am Not Your Negro
Dir: Raoul Peck / USA / 1hr 35mins
Raoul Peck's outstanding, Oscar nominated documentary is about the African American activist and author James Baldwin. Peck dramatises Baldwin's unfinished manuscript Remember This House, his personal memoir of Malcolm X, Martin Luther King Jr and civil rights activist Medgar Evers.
16th November: A Man Called Ove
Dir: Hannes Holm / Sweden / 1hr 56mins
"A Man Called Ove" is a touching portrait of a grumpy, widowed 59 year old Swede with a heart of gold underneath his curt bad manners. Ove has given up on life. Enter a boisterous young family next door who accidently flattens his mail box while moving in and earns his special brand of ire
23rd November: Maudie
Dir: Aisling Walsh / Ireland/Canada / 1hr 56mins
"Maudie", based on a true story is an unlikely romance in which the reclusive Everett (Ethan Hawke) hires a fragile yet determined woman named Maudie (Sally Hawkins) to be his house-keeper. Maudie, bright eyed but hunched with crippled hands yearns to be independent.
30th November: Daughters of the Dust
Dir: Julie Dash / USA / 1hr 48mins
"Daughters of the Dust" is a film of spellbinding visual beauty about the Gullah people living on the Sea Islands off the South Carolina-Georgia coast at the beginning of the 20th Century. More than any other group of Americans descended from West Africans, the Gullahs through their isolation were able to maintain African customs and rituals.
7th December: One Flew Over the Cuckoo's Nest
Dir: Milôs Forman / USA / 2hrs 24mins
Based on Ken Kesey's novel, "One Flew Over the Cuckoo's Nest" features a mesmerising performance by Jack Nicholson as Mac Murphy, the subversive wild man and incorrigible trouble maker sent down for statutory rape whose unstable behaviour gets him a transfer to what he thinks will be the cushy option of the mental institution.
**Tickets €8.60 / concessions also available **